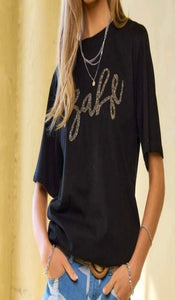 This Babe Tee features a fun and stylish design, with a beaded "Babe" that stands out. Crafted from high-quality material, this shirt provides lasting comfort and is sure to make any outfit unique.
Stylish Note: Complete the outfit with the Sequin Joggers or Faux Leather Pants.
Color: Black
Fit is relaxed slightly oversized.